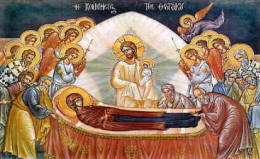 The Dormition Fast - To the Theotokos, let us run now most earnestly, we sinners all and wretched ones, and fall prostrate in repentance, calling from the depths of our souls: Lady, come and help us. Have compassion upon us; hasten, for we are lost in a throng of transgressions; do not turn your servants away with empty hands, for you alone are our only hope.

-from the Paraclesis: Supplicatory Prayer to the Most Holy Theotokos

On Wednesday, August 1st, we begin in our Holy Churches the Dormition Fast-"Spasiwka". This Fast begins August 1st and ends on August 14th, and is a time of preparation for the Feast of the Dormition-Falling Asleep of the Mother of God. The Service of the Paraclesis (Gr. Service of Supplication) which is prescribed during the Fast period consists of hymns and supplications to obtain consolation and courage. The theme of this Prayer Service centers around the petition: "O Most Holy Mother of God, save us".
If you have a problem or if something is burdening your soul, if you feel spiritually uneasy and if you are not at peace with yourself and with those around you, then, you should come to the Church during the first fifteen days of August and ask for the intercession of the Mother of God. Even if you are fortunate enough to be one of those very few who are at peace with themselves and with God, then those blessed ones should come and give thanks to Almighty God for the blessings that have been bestowed upon you and your family.
Since the Service of Supplication to the Theotokos are primarily petitions for the welfare of the living, let the whole Church pray for you during the first fifteen days of August and especially on the Feast of the Dormition of the Theotokos on August 15th. Don't let your laziness and your apathy cause you to miss this great blessing and inspiration that the Church can bestow upon you.
The Dormition of the Most Holy Lady, the Theotokos and Ever-Virgin Mary

Come, all you ends of the earth, let us praise the blessed passing of the Mother of God. She delivers her sinless soul into the hands of her Son; through her holy Dormition the world is given new life. With psalms and hymns and spiritual canticles, the whole world celebrates in joy together with the angels and apostles. -from the Litiya for the Feast