The Holy Transfiguration of Our Lord and Savior Jesus Christ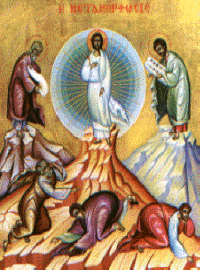 Come, let us ascend the mountain of the Lord, and go into the house of our God. Let us contemplate the glory of His Transfiguration, the glory of the only begotten Son of God the Father. From His light, let us receive light; and raised up by the Holy Spirit, let us sing the praises of the consubstantial Trinity forever.
Litiya verse for the Feast

On August 6th we celebrate in our Holy Churches the glorious Transfiguration of our Lord Jesus Chris. This day is one of the 12 major feast days of our Holy Church. By His Transfiguration, the Savior has showed us how people become in the future life, in the Kingdom of Heaven, if they follow God's Law and how the entire ear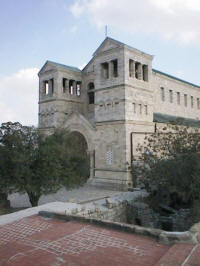 thly world would be transfigured. The Lord also reminds us that we can be transfigured even now if we lead a truly Christian life.

This important event in Christ's life on earth occurred not long before His Crucifixion. In order to sustain His disciples' faith when they would see Him suffering, the Lord first showed them His divine glory. Taking along three of His disciples – Peter, John and James, the Lord ascended a high mountain, called Mount Tabor, to pray. While Christ was praying, the disciples fell asleep from fatigue. When they awoke, they saw that Christ was transfigured: His face shone like the sun, while His garments had become radiant as light. Two prophets – Moses and Elijah – appeared to Him in their heavenly glory and spoke with Him about His forthcoming suffering and death.
Seeing all this, the disciples' hearts were filled with extraordinary joy. When they saw that the prophets were about to withdraw from Christ, Peter, trying to hold them back, cried out: "Lord! It is good for us to be here; if You wish, we will make three tents here: one for You, one for Moses and one for Elijah."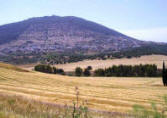 Suddenly a bright cloud enveloped them and out of the cloud they heard the voice of God the Father: "This is My beloved Son, in Whom I am well pleased; listen to Him!" In great fear the disciples fell to the ground. Christ came and touched them, and said: "Arise and do not be afraid." The disciples arose and saw Christ in His usual appearance. (Read the Gospel reading for this Feast: Matthew 17:1-9)
On the Feast of Transfiguration, fruit is brought to our Churches to be blessed for eating. Traditional practice includes the blessing of grapes (a reminder that we must abide in the True Vine, Jesus Christ).Local customs also include other fruit. The blessing of grapes, as well as other fruits and vegetables on this day is the most beautiful and adequate sign of the final transfiguration of all things in Christ. It signifies the ultimate flowering and fruitfulness of all creation in God's Paradise where all will be transformed by the glory of the Lord. Below is the Prayer for the Blessing of Fruit:

Priest/Deacon: Let us pray to the Lord.
People: Lord, have mercy.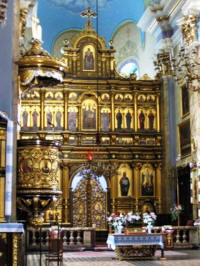 Priest: Lord, Our God and Master, You decreed that from the gifts that You have given us, we are to offer You what is Yours. You reward those who give of their perishable goods with eternal goods. You were pleased to accept the widow's mite. Be pleased to accept offerings also of us, Your servants. Place them among Your everlasting treasures. Grant us an abundance of earthly things along with all that is beneficial for our well-being. Bless these fruits. Grant health of soul and body to all who partake of them. For glorified is Your Kingdom and Blessed is Your Name, of the Father, and of the Son and of the Holy Spirit, now and for ever and ever. People: Amen.

Priest: These fruits are blessed and sanctified by the sprinkling of this holy water in the Name of the Father, and of the Son and of the Holy Spirit
People: Amen.

The Holy Transfiguration of Our Lord Jesus Christ
You were transfigured on the Mountain, Christ, our God, revealing Your glory to Your Disciples insofar as they could bear it. With the intercessions of the Theotokos, let Your everlasting Light shine out also on us sinners, Giver of light; glory to You! -Troparion of the Feast